11, 12, 2, 1, 5, 4, 3,
10, 9, 8, 7, 6,
Swedish costumes of the country people from Dalarna. Bride and groom from Hitterdalen in Norway.
SWEDEN AND NORWAY.
COUNTRIES.
Nos. 1 and 2. inhabitants of Mora engaged in clock making.
Nos. 3, 4, 5: A family from Leksand in their Sunday best. The costume is the same in the whole area. The only difference is the colour of the apron.
No. 6. A rich peasant woman from Scania (Skåne) in southern Sweden in Sunday best.
Nos. 7 and 8. Farmer and farmer's wife from Sätersdalen (Norway). The main component of the male costume is an unusually long pair of trousers, which are attached to the short waistcoat by the braces, forming one piece with the jacket. Characteristic of the female costume is the extraordinarily short double skirt, which is pulled up over the belt so that it forms a bodice above it, the red silk headscarf and the plaid-like cape made of home-made woollen fabric.
No. 9 and 10. Bride and bridesmaid from Hardanger (Hordaland). The gilded filigree jewellery on the breast is national work, in the ornamentation of which ancient Nordic motifs can still be recognised.
Nos. 11 and 12. Bride and groom from Hitterdalen. Hitterdalen is a village in the municipality of Røros in Trøndelag County, Norway. The village lies about halfway between the town of Røros and the village of Brekken. It lies about 3 kilometres south of Lake Aursunden.
Source: History of Costume in Chronological Development by Auguste Racinet. Edited by Adolf Rosenberg. Berlin 1888.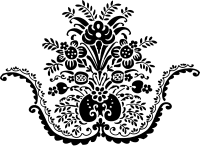 Related