The Kislar Aga, or first Eunuch of the Seraglio. Sudanese eunuch of the Harem.
Kızlar Ağası (Ottoman قيزلر اغاسی 'Agha of the girls', i. e. concubines, in Turkish, kızlar ağası: Unğwhenı) or Darüssaade Ağası, formally agha of the House of Happiness, was the title of the chief black palace eunuch who guarded the imperial harem of the Ottoman sultans in Constantinople.
From the 16th century, the Kızlar Ağası held the rank of pasha with three horse tails. The chief black eunuchs were among the top bureaucrats of the Ottoman Empire. Established in 1574, the post ranked among the most important in the Ottoman Empire until the early 19th century, especially after the administration of the two holy cities of Mecca and Medina and the supervision of all charitable foundations (vakifs) in the Empire came under its purview.
The wealth thus amassed, the proximity to the sultan, and the role of harem women in courtly intrigues ("Sultanate of Women") meant that its occupant had considerable political influence; several kizlar aghas were responsible for the downfall of grand viziers and the accession of sultans. Shortly after its creation and until its abolition at the end of the Ottoman Empire, the post was filled by black African eunuch slaves, hence it was also referred to as the Black Chief Eunuch.
Hacı Beşir Ağa was a politically extremely influential chief eunuch.
Historical Ottoman Empire officials and ethnic groups.
IN the various and complex government of the Grand Seignior's Seraglio, no person holds a more important office than the Kislar Aga; the business of this person being to direct and take care of every thing belonging to the females of the place. As he has the whole interior management of their apartments, he has various opportunities of ingratiating himself with the Sultan: and thus he often becomes a most powerful friend, or enemy, to the other great officers.
The story of throwing the handkerchief is not a fact, according to most modern writers. The fortunate fair one whom the Sultan honors with his regard, is informed of the circumstance by the Kislar Aga; and this, among the Sultanas, is reckoned the highest mark of respect.
Source: The costume of Turkey. Ottoman Empire. Officials and ethnic groups. Illustrated by a series of engravings; with descriptions in english by Octavian Dalvimart. The text has been attributed to William Alexander, B. De Tott, J. Dallaway, G.A. Olivier, M. Montague.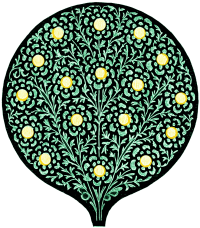 Related