ROBE DE COUR AU GRAND ORIENT
A Madame la Comtesse d'Oyeras:
«1786, 1er février, – La garniture d'une grande robe française de satin fond blanc rayé en velours bleu et blanc, la draperie bordée d'un plissé de blonde tournante, fond tulle à dessin, des bouillons de gaze dessus des attaches de ruban de velours bleu et blanc, bordé de velours ponceau; entre les bouillons, de gros choux de même ruban de velours ponceau dans lequel est une boucle de perles, le bas du parement garni de même d'un volant de belle gaze rayée anglaise, bordée d'une blonde tournante fond d'Angleterre, la coquille bordée d'un plissé de même bouillon de même blonde, sur la tête la dite coquille relevée à gauche par un gros choux comme aux draperies, avec une boucle de perles – 388 liv.
« Un tour de robe en blonde tournante. – 15 liv.
« Une parure de 3 nœuds en ruban ponceaux chiné, bordé d'un petit pied de blonde – 18 liv.
« La pièce en barrière assortie – 6 liv.
Dossiers Bertin (Bibliothèque Doucet).
Source: Galerie des Modes et Costumes Français Dessinés d'Apres Nature 1778-1787. Réimpression accompagnée d'une préface par M. Paul Cornu. Émile Lévy, Éditeur. Nicolas Dupin, naar Augustin de Saint-Aubin, 1787.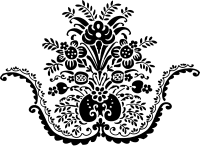 Related
---
Support and Seduction: The History of Corsets and Bras (Abradale Books) by Beatrice Fontanel.
Thoughout the ages, women's breasts have been subjected to the endless whims of fashion. From the ancient Greeks to Mae West and Madonna, this light-hearted book charts the changing shapes of female beauty. The elegant and amusing images - including fashion drawings, paintings, photographs, and film stills - illustrate the often surprising history of the garments women have worn for support - and seduction.
---