The Age of Undress by Amelia Rauser.
Dress in the Age of Jane Austen by Hilary Davidson.
Jane Austen at Home by Lucy Worsley 
---
Evening dresses.
December 1794.

The Gallery of Fashion.
Robe à la Turque. C

oquelicot striped Barcelona twisted turban.
FIG. XXXIV.
HAIR-DRESS. The hair in light curls; double chignon. the ends returned in ringlets. White and coquelicot striped Barcelona twisted turban, the end falling very low behind. One white and purple ostrich feather placed behind.
A purple silk round gown, drawn in the waist; long sleeves, and trimmed with white fur. Coquelicot-coloured sash. Swan-down tippet, Handkerchief within the gown. A string of white beads round the neck. Gold loop pattern ear-rings. White gloves and shoes.
FIG. XXXV. Robe à la Turque.
HEAD-DRESS. Chiffonet made of white embroidered lawn, black velvet bandeau set with pearls. One white, one black, and two white and lilac' feathers, with a large diamond pin placed on the right side. Petticoat and robe à la Turque of white satin, trimmed with gold foil, and a black fringe intermixed with gold. High tucker of blonde, double plaited. Diamond earrings. White shoes embroidered in gold. Party-coloured fur muff.
Source: THE GALLERY OF FASHION Vol. 1,. April 1794 to March 1795. Published by Nikolaus von Heideloff, London.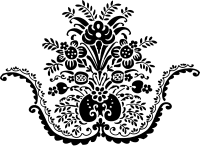 Related
---
Support and Seduction: The History of Corsets and Bras (Abradale Books) by Beatrice Fontanel.
Thoughout the ages, women's breasts have been subjected to the endless whims of fashion. From the ancient Greeks to Mae West and Madonna, this light-hearted book charts the changing shapes of female beauty. The elegant and amusing images - including fashion drawings, paintings, photographs, and film stills - illustrate the often surprising history of the garments women have worn for support - and seduction.
---
The Age of Undress by Amelia Rauser.
Dress in the Age of Jane Austen by Hilary Davidson.
Jane Austen at Home by Lucy Worsley 
---