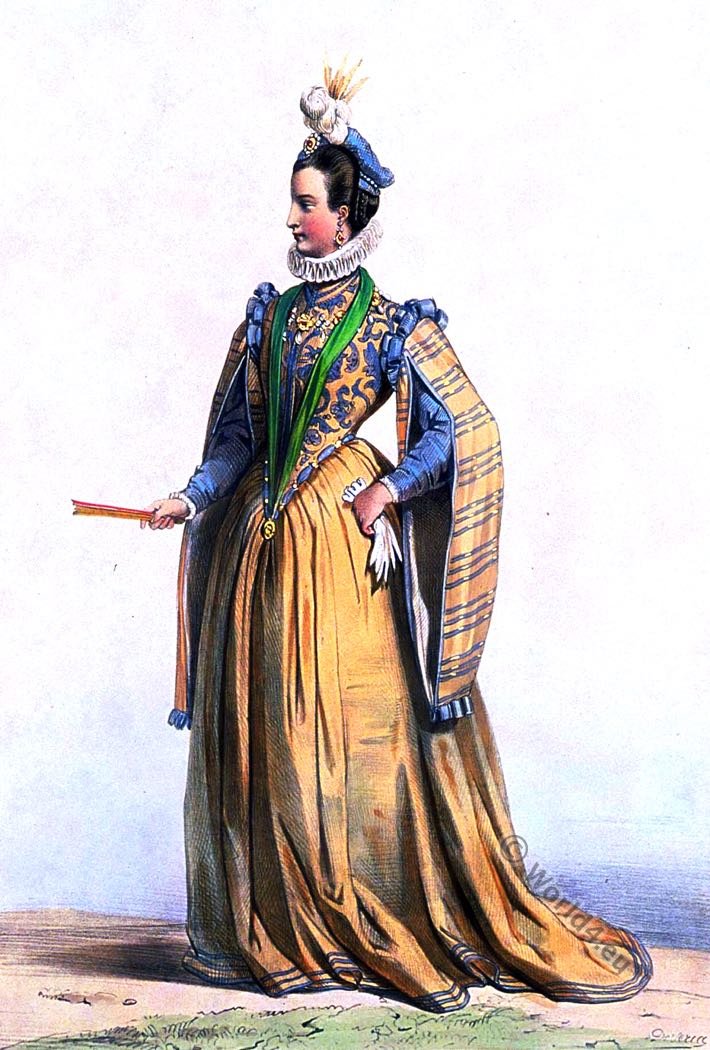 French lady of the time of Henry III. Renaissance. 16th century.
Renee de Rieux, demoiselle de Châteauneuf.
Renee de Rieux, demoiselle de Châteauneuf (1541 in Brittany; – 1582 in Florence) called La Belle Châteauneuf, was a mistress of the French King Henry III.
She came from a long-established noble family in Brittany and was maid-of-honour to the French queen Catherine de Medici. From 1564 to 1571 she had a passionate affair with the Duke of Anjou and later King Henry III (from 1569 to 1571. They were the same age), who wrote many gallant sonnets to her. After his marriage with Louise de Vaudémont, she was not afraid to defy the Queen and was exiled.
When Henri III married Louise de Vaudemont in 1575, Renée de Rieux was not afraid to defy the new queen (she appeared at a court ball dressed exactly like Louise de Lorraine). Henri III tried to marry her to François de Luxembourg, of the house of Brienne (unhappy lover of Louise de Lorraine Vaudemont), but he coldly refused. Antoine du Prat also refused to marry the 'belle Chateauneuf' (in revenge for this affront, Brantome tells us that 'she trampled him underfoot with her horse during a parade').
In 1575, she married a Florentine by the name of Antinotti (not to be confused with Altoviti who was her second husband) with whom she had fallen madly in love. She is said to have stabbed him in 1577 in a fit of jealousy. The journal de l'Estoile relates this event as follows: "having found him bawling, the beautiful Chateauneuf killed her husband, manfully, with her own hand".
Protected by the king, she was not worried about this murder. On the other hand, her frequent harassment of Queen Louise of Lorraine did not go unnoticed. Henry III decided to exile her.
In the meantime, in February 1577, Renée de Rieux secretly married a Provençal gentleman, Philippe d'Altoviti, captain of the King's galleys.
This marriage was apparently kept secret, and a letter from Renée de Rieux written in Marseille on 20 December 1577, and addressed to Henri III, denies the fact that she was abducted by him and married by force:
"…Sire, before my departure from Brittany, I had written to you and made you understand my marriage with Mr d'Altoviti, one of your captains of the galleys, promising me that you would be pleased with it, since it is something in which I have been content, and that of my own free will I have sought to live with him, as I am the happiest person who can be said to be…"
Henri III made Philippe d'Altoviti a count of Castellane on the occasion of his marriage. He was born in Marseille and was the son of Fouquet d'Altoviti (captain of the galleys) and Anne de Casaux. He died on 2 June 1586 following a duel with Henri d'Angoulême, natural son of Henri II, Grand Prior and Governor of Provence.
There is no information about Renée's life after the death of her second husband.
Source: Costumes historiques, de la ville ou de théâtre et travestissements. Author: Achille Devéria (French, 1800–1857) and José Domínguez Bécquer. Publisher Paris: Goupil et Vibert 1831. Publisher London: Charles Tilt 1839. Printed by: Lemercier & Cie. Editorially restored.

Continuing