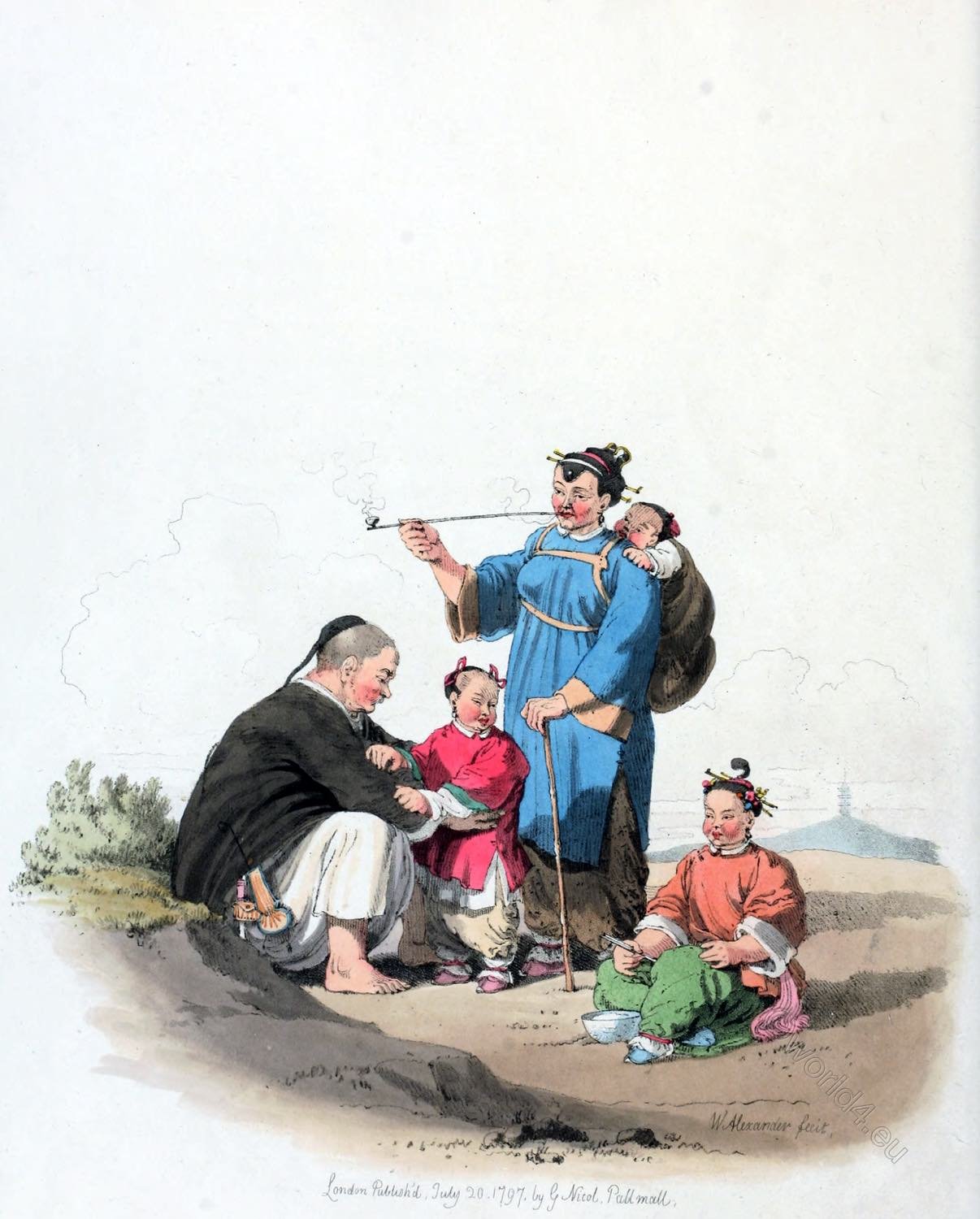 A PEASANT
from the northern provinces with his Wife and Family.
Smoking tobacco is so universally prevalent in China, that it is not unusual to see girls of only twelve years of age enjoying this recreation. The Mother is in the dress of the northern provinces; the peak on her forehead is of velvet, and adorned with a bead of agate or glass. The hair is combed back so smooth by the assistance of oil, that it more resembles japan than hair; on the back of her head is a loop of leather, and the whole is kept together by bodkins of ivory or tortoise-shell. The general dress of this class of people, male or female, is nankeen dyed of various colours, though blue or black is most commonly worn.
The usual method of carrying infants, by mothers who are employed in any manufacture, or at any manual labour, as sculling of boats, &c, is by attaching them to the back in a kind of bag. Sometimes two children are seen fastened at the shoulders in the same manner.
The Father wears appended from his girdle, a tobacco purse, knife case, and his flint and steel, by which the Chinese light a pipe very expeditiously.
The elder Girl has her hair twisted into a hard knob at the crown, and ornamented with artificial flowers; she is prepared for dinner, having her bowl of rice by her, and her chopsticks in her hand.
The feet of children are prevented from growing larger, by hard bandages bound strongly round them, the four smaller toes are turned under the foot, closely compressed, and the great toe forms the point. In consequence of this extraordinary custom the feet of adult women seldom exceed five inches and a half; even the peasantry pique themselves on the small ness of their feet, and take great care to adorn them with embroidered silk shoes, and bands for the ankles, while the rest of their habiliments display the most abject poverty.
Source: The costume of China, illustrated in forty-eight coloured engravings by William Alexander (1767-1816). London, William Miller, Albemarle Street, 1805. Plates also published in Bazin de Malpière's La Chine; moeurs, usages, costumes. 2 v. Paris, 1824-27.
Related