Chinese sceneries in 19th century.
Landscape, Architecture, Costumes, Temples, Palaces, Manners with description.
Description: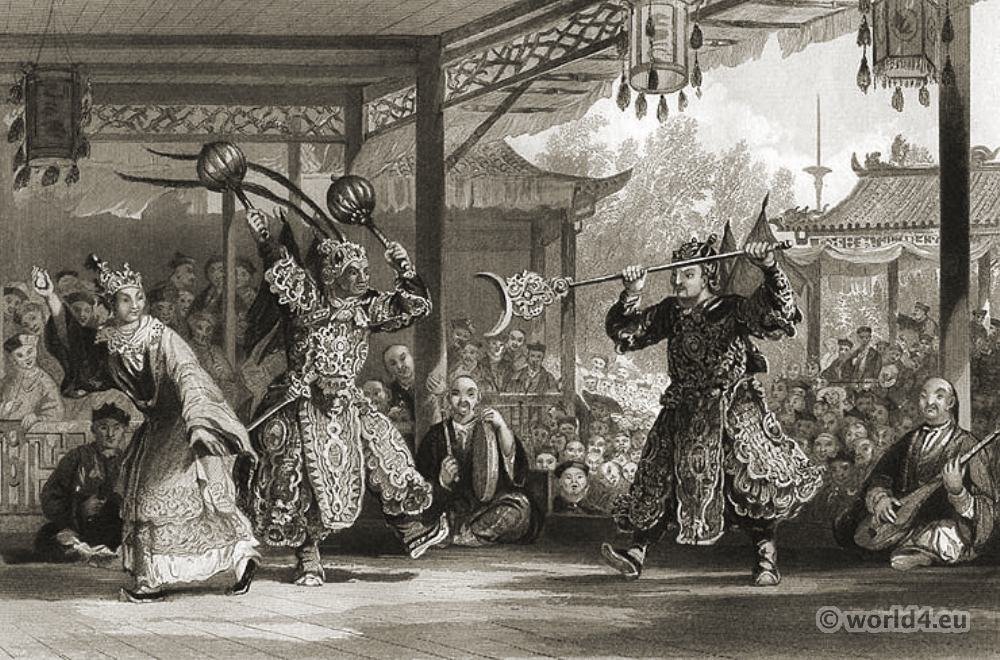 Punishment of the Bastinado.
Altar-piece in the "Xun Stzoo-Stzee" Temple, Ting-Hai.
Chinese Cemetery.
A devotee consulting the sticks of fate.
Cataract of Ting-hoo, on the Tripod Lake.
Han-tseuen-Province of Kiang-nan.
Macao from the sea.
The Proof-sword Rock, Hoo-kew-shan.
Estuary of the Tahea, or Ning-po River.
Wuyishan, Fujian, or Bohea Hills, Province of Fo-kien.
Landing Place at the Yuk-Shan.
Apartment in a Mandarin's House, Near Nanking.
Rice Sellers at the military Station of Tong-Chang-foo.
The City of Nanking.
Landing Place and Entrance to the Temple of Honan, Canton.
Temple of Buddha, Canton.
Attack and capture of Chuenpee, near Canton.
Cotton plantation at Ning-po.
Foot of the Too-hing, or Two Peaks, at Le Nai. (Province of Shen-si).
Scene from the Spectacle of 'The Sun and Moon'.
Cotton Wool Cleaning.
Source: China, in a series of views, displaying the scenery, architecture, and social habits, of that ancient empire. Drawn, from original and authentic sketches, by Thomas Allom. With historical and descriptive notices by the Rev. G. N. Wright. Author: George Newenham Wright (1790-1877). Artist: Thomas Allom (1804-1872). Engraver: Wetherhead. Publisher: Fisher, Son, & Co. publ. 1843.
Related