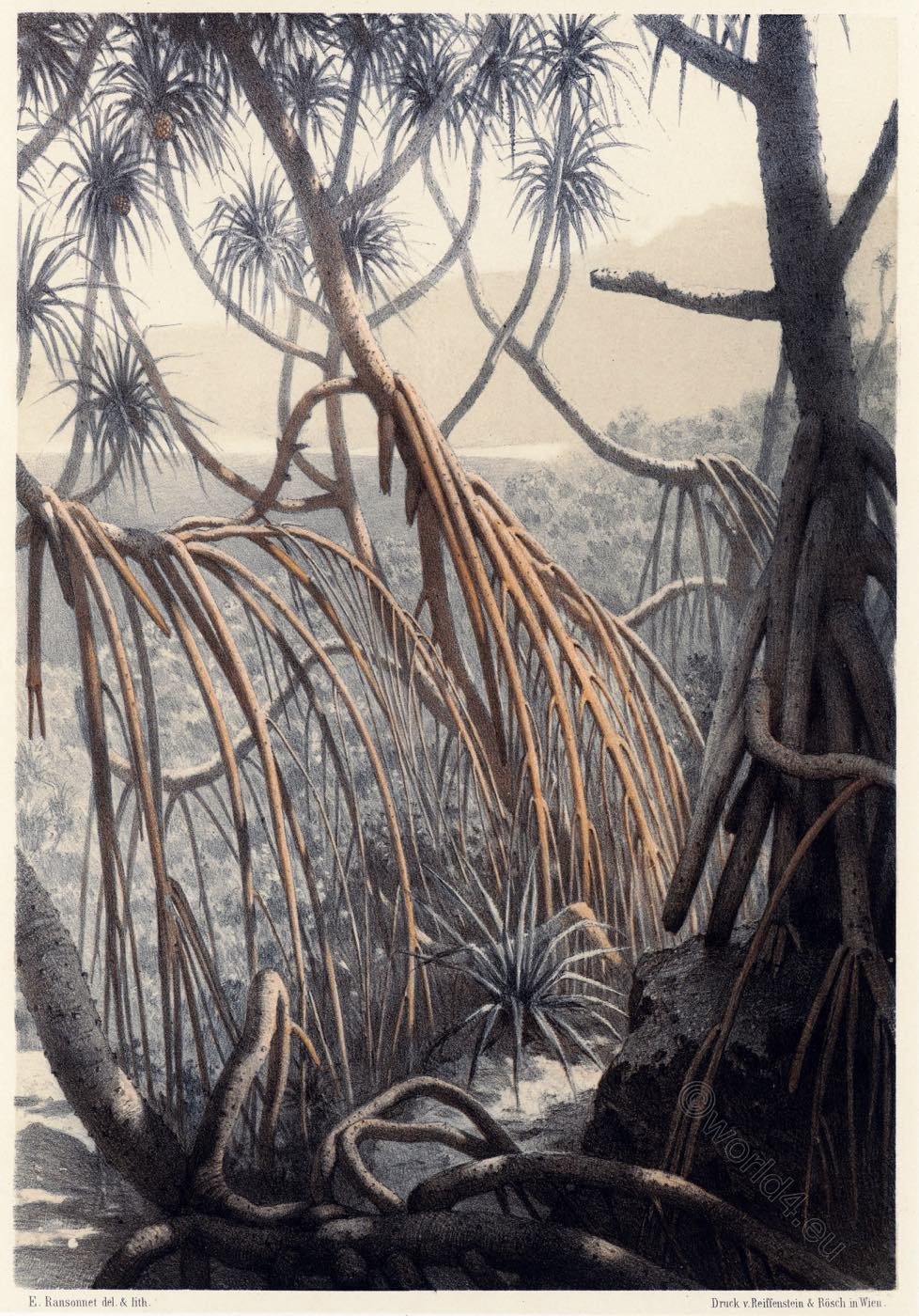 PLATE V.
Group of Pandanus.
This view, taken on the shore opposite Galle, shows a very characteristic feature of the coast vegetation. The phantastic stems of the screw-pines (Pandanus) are crawling and winding like so many snakes from cliff to cliff, supported by their long and numerous leg-like roots.
The principal trunk divides into many branches, each of which is surmounted by a tuft of long leaves. The numerous roots are of a reddish tinge and form a picturesque foreground to the dark blue surface of the sea, which sometimes is visible through their entangled network.
Pandanus tectorius is an evergreen tree that forms a trunk that grows to a height of about 6 metres, sometimes even up to 10 metres. It develops a widely spreading crown with a diameter of about 5 to 12 metres. It develops stilt roots with which it increases its stability. The linear and sword-shaped leaves are 90-150 cm long and 5-7 cm wide. The leaves are sharp-edged and have thorns around the edges.
The original distribution area is not known; it is assumed that the Polynesians spread the species as a cultivated plant. It is assumed that the original distribution area is between the Philippines and the islands in the Pacific Ocean.
Source: Sketches of the inhabitants, animal life and vegetation in the lowlands and high mountains of Ceylon. As well as of the submarine scenery near the coast taken from a diving bell by the Baron Eugène de Ransonnet (Eugen Freiherr von Ransonnet-Villez, 1838 in Hietzing bei Wien; † 28. Juni 1926 in Nußdorf am Attersee). Printed for the author by Gerold & sold by Robert Hardwicke, London 1867.
Related