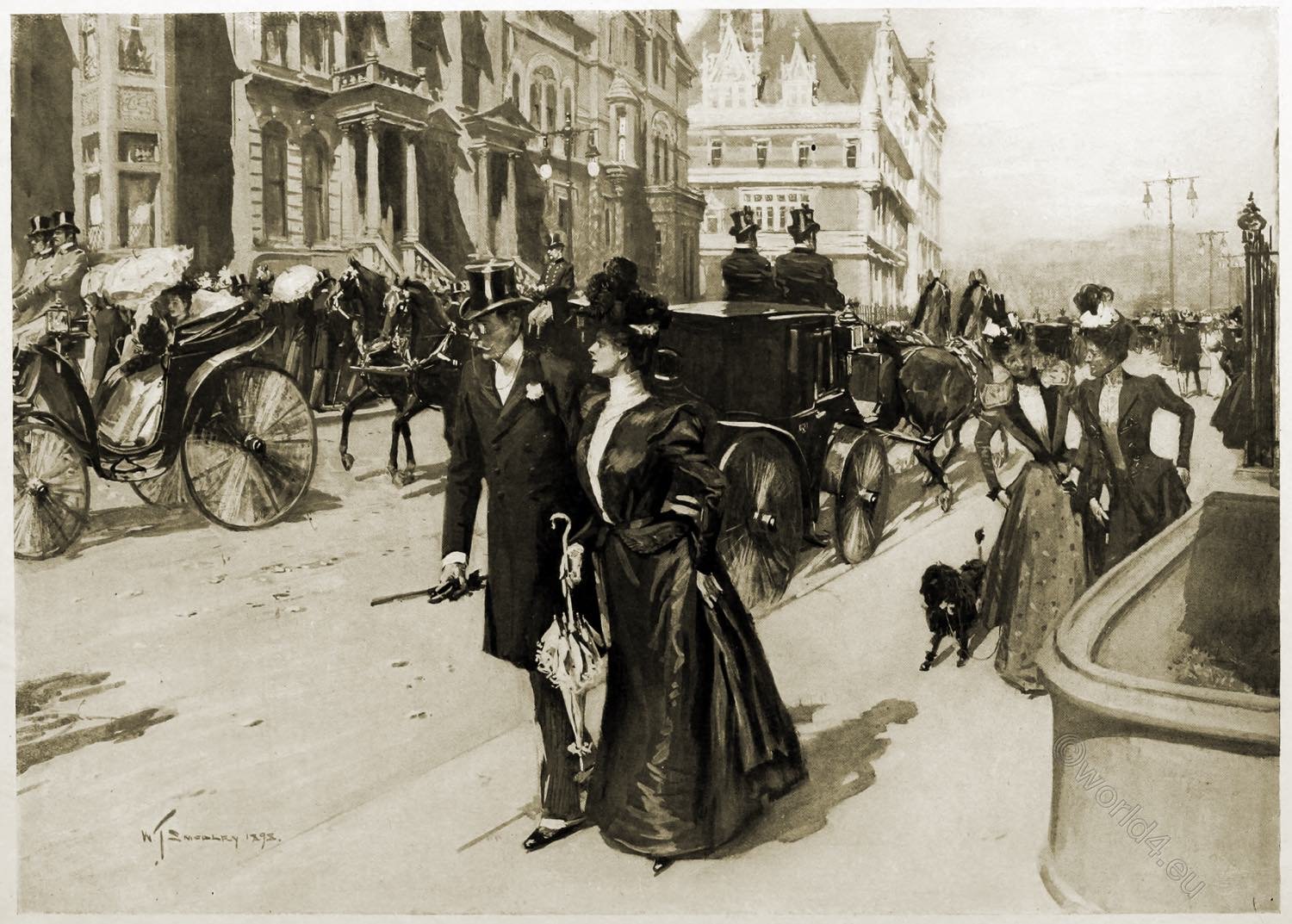 Fifth Avenue, New York.
(Belle Époque)
WITHIN the memory of many comparatively young New-Yorkers, Depau Row, on Bleecker Street, was the most palatial mansion, or series of mansions, in the city, and when our country cousins came to town they went there first to feast their eyes on the outside splendor of the structure. It is now the home of a portion of that polyglot European crowd which has kindly adopted us.
Fourteenth Street became the fashion next, and then the "Avenue." Our view is on Fifth Avenue looking north towards the southern entrance to Central Park. The building in the distance, on the left, is the residence of Mr. Cornelius Vanderbilt, one of the finest and most expensive in the city, occupying the space on the Avenue between Fifty-seventh and Fifty-eighth Streets. Beyond, one gets a glimpse of the Park.
Here, and on the side-streets in the neighborhood, live many of the most wealthy of our merchants and professional men, and on fine, sunny afternoons one may see an array of fashion and beauty that cannot be matched elsewhere; for our women not only know how to dress, but they are keenly alive to the styles that are most becoming to them, and, better than all, they have the knack of carrying their clothes in a manner that makes the ensemble a delight to the eye.
And their color sense is so fine, and they are so handsome, that one with an artistic perception has much the same feeling that he gets in his first glance at a gallery of choice pictures. While all this is passing on the side-walk, hundreds of the finest appointed carriages are carrying their fair occupants to the Park or to afternoon teas. This scene is repeated every fair week-day until the summer exodus to Stockbridge, Lenox, or Newport. Then the Avenue is deserted.
Source: Life and character; by William Thomas Smedley (1858-1920). With accompanying text by Andrew Varick Stout Anthony (1835-1906). New York, London, Harper & Brothers Publishers, 1899.
William Thomas Smedley, born March 26, 1858 in Chester County, Pennsylvania and died March 26, 1920 in Bronxville, New York, USA, was an American painter and illustrator. William Thomas Smedley was born in Chester County, Pennsylvania in 1858. He started out as a journalist before moving to Philadelphia where he worked in a printing shop by day and studied at the Pennsylvania Academy of the Fine Arts at night under the painter Thomas Eakins.
In 1880, he moved to New York. During his career, he mainly illustrated stories of modern and everyday life in books, newspapers and magazines (including Scribner's Magazine, Harper's Magazine, Harper's Weekly, The Century Magazine and Ladies' Home Journal), while painting portraits and watercolours.
In 1882, he travelled across Canada in the company of Canadian Governor General John Campbell to make sketches for Picturesque Canada: The Country As It Was And Is. Four years later he was commissioned to do a similar work for The Picturesque Atlas of Australasia, which took him to Australia, New Zealand, India, North Africa and Europe, where he stayed in Paris and studied under Jean-Paul Laurens.
Back in New York, he set up his studio and specialised in portraits. In 1890, he received the Evans Prize from the American Watercolor Society. In 1895, he moved to Bronxville. He won a bronze medal at the Paris World's Fair in 1900. In 1905, he became a member of the American Academy of Fine Arts.
He died in Bronxville, New York, in 1920.
His works can be seen or preserved at the Norman Rockwell Museum in Stockbridge, the Metropolitan Museum of Art in New York, the National Gallery of Art and the Smithsonian American Art Museum in Washington, the Brontë Parsonage Museum in Haworth and the San Francisco Museum of Fine Arts.
Related