The American Duchess Guide to 18th Century Dressmaking: How to Hand Sew Georgian Gowns and Wear Them With Style by Lauren Stowell (Author), Abby Cox (Author).
Lauren Stowell and Abby Cox of American Duchess have endeavored to make the impossible possible by bringing historically accurate dressmaking techniques into your sewing room. Learn how to make four of the most iconic 18th century silhouettes―the English Gown, Sacque Gown, Italian Gown and Round Gown―using the same hand sewing techniques done by historic dressmakers.
The Syren, after Charles Louis Muller 1878.
The Syren by C. L. Muller – New Gallery Of British Art, New York, D. Appleton, Company. Second Series edited by James Dafforne (Virtue, c 1880). Engraver H. Bourne.
The Syren.
THE picture here engraved is by Charles Louis Muller (Paris 22 December 1815 – 10 January 1892 Paris. In 1864 he became a member of the Académie des Beaux-Arts of the Institut de France), the famous French painter, commonly known as "Müller of Paris," by way of distinction from other artists of the name.
He was a pupil of Léon Cogniet and of Antoine-Jean Gros (French painter of Classicism), and has obtained high repute in his native country by several large historical pictures, especially such as 'The Martyrdom of St. Bartholomew,' 'Diogenes and his Lantern,' 'Satan leading Christ up into the Mountain,' 'Massacre of the Innocents,' "The Roll-Call of the Victims of the Days of Terror,' now in the gallery of the Luxembourg.
Among his single figures are 'Spring,' 'Lady Macbeth,' 'Haidée,' and 'The Syren;' for this latter picture the painter evidently selected a Spanish, or probably a Hebrew model: the face and hands are not bronzed enough for those of an Eastern female.
The full clark eyes, the raven-black hair flowing in masses over the shoulders, the jewelled head-ornmaments, the pearl necklace, the armlet, and the finger-rings, bespeak the Jewish race nearer than any other.
Published January 1, 1876. "The Syren" is an article from The Art Journal (1875-1887), Volume 2.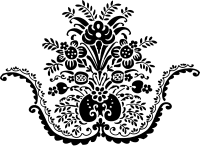 Related
---
Support and Seduction: The History of Corsets and Bras (Abradale Books) by Beatrice Fontanel.
Thoughout the ages, women's breasts have been subjected to the endless whims of fashion. From the ancient Greeks to Mae West and Madonna, this light-hearted book charts the changing shapes of female beauty. The elegant and amusing images - including fashion drawings, paintings, photographs, and film stills - illustrate the often surprising history of the garments women have worn for support - and seduction.
---